Bagan & Its Vicinity
Bagan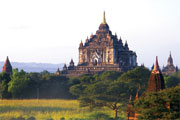 Bagan was the first capital of Myanmar. The Bagan Period was from 11th to 13th century. It is almost contemporary with the major central and South America countries of the Maya, and the Inca. The first and the earliest cathedral church in France was built in 12th century. The pagodas in Bagan are earlier than the oldest cathedral.

Bagan covers an area of 42 square km on the bank of Ayeyarwaddy River in central Myanmar. Bagan, where is many existing old monuments and religious buildings, reveal the greatness of their time of glory. Bagan with over 3000 ancient pagodas is proof of the rich cultural heritage of Myanmar. Bagan is one of the richest archaeological sites all over the world. That's why Bagan is well-known as the archaeological paradise of the world.

This is the paradise of the archeologist. Originally, they built nearly 5000 monuments in Bagan. All of them are religious monuments. But today according to the census of the archaeological department, more than 3000 temples still survive. They are well preserved because of the climate in the region. The maximum temperature is 43°C and the minimum temperature is 15°C. The rain fall is not more than 55cm. That's why in this climate monuments can be preserved not only the climate but also their architecture in the period because of their high technology. They were high civilization. Now, Bagan is the most famous place in our country.


Mt. Popa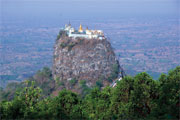 Popa, an oasis of dry zone, is about 60km away from Bagan. It is a 1520 m high extinct volcano. Popa, a great extinct volcano, lasts active 25000 years ago. It is the place of special importance for history and culture. Mt.Popa is famous for its wealth of medicinal plants and rare orchids, the legendary of 'Nat' Spirit of Myanmar. The natural water of Popa mountain provides the water supply for the area. The whole top of mountain is covered with picturesque complex of monastery, pagodas and shrines for Nat which are made accessible by a series of stairways. You will reach the top after 777 steps climb.
Sale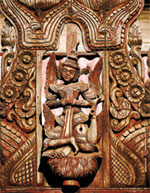 Bagan had flourished Buddhism in the 11th century and so had Salay. There are many pagodas in Bagan. Salay does not have Pagodas like Bagan. But a lot of monasteries still remain in Salay nowadays. Today's Salay is much more of a religious centre than Bagan. There are many more working monasteries than any other areas today. During the late Bagan era, the last 12th and 13th centuries, Salay developed as the expanding spiral of Bagan's influence moved southward along the Ayeyarwaddy river. In Salay, one can see the huge wooden monastery which is the most beautiful in Myanmar and it is very impressive with its wood carving.