Inle & Vicinity
Inle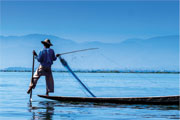 A taste of unexplored Myanmar nature, easily matching Venice in terms of beauty but with no Palazzo; instead Inle offers you unique pagodas, villages and floating gardens built on stilts right into the lake. Picture perfect, every shot is worth a postcard here. Inle Lake is the second largest lake in Myanmar which is situated 1,328 meters above sea level and is 22km along and 11km wide. Inle lake with its leg- rowng Intha people is a major tourist destinalin in Mynmar.



Kakku Pagodas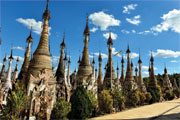 In recent years the previously hidden Kakku Pagoda has become one of the most visited places in southern Shan State. It is situated near Mway Taw village in Taunggyi Townsh ip, about 25 kilometers from Taunggyi Annually in March, on the full moon day of Tabaung (March) which is the last month of the Myanmar lunar calendar, Kakku Pagoda festival takes place. Normally the festival begins two or three days in advance It is not only religious for porpose but also a social occasion.
It is the time for all to have fun, exchange news and gossips, to trade. For the younger set it is the time to meet their friends from other villages or boys to fall in love with girls.