Yangon & Vicinity
Yangon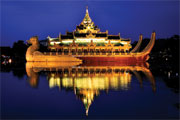 Yangon, known as Dagon in ancient times is situated in the southern part of Myanmar and is 21 miles away from the sea. Yangon, the Green City in the East, is now the commercial city of Myanmar and the capital of the lower Myanmar. It is also the main gateway to Myanmar.

Yangon covers 350 sq-km. It has a population of 6 millions. The Great Shwedagon pagoda, where the relics of four Buddhas were enshrined. This pagoda is the landmark of Myanmar and is visible from miles around. A visit to Yangon is incomplete without a visit to Shwedagon. Other places of interest are National museum, Bogyoke market, Sule pagoda, Chaukhtatgyi reclining Buddha, many colonial buildings and etc..

The most popular among visitors is Bogyoke Aung San Market in the downtown area, with its hundreds of stalls selling everything from rubies to lacquerware to sil

Bago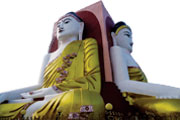 Bago, once called Hantharwaddy when it was the capital of Mon Kingdom. Bago is situated only 80km from Yangon. Bago is the capital of Bago division. Bago was reputedly founded in AD 573 by two Mon princes from Thaton, who saw a female hamsa (mythological bird) standing on the back of a male hamsa on an island in a huge lake.

The main pagoda in town is Shwemawdaw and its annual festival in April is one of the biggest festival in lower Myanmar. The huge Shwethalyaung reclining Buddha Image, once lost in the jungle, was only rediscovered in the 19th century by engineers while repairing a railway. Its huge size has been exceeded by the recently completed Myathalyaung Buddha on the southern end of town, which is now the third-biggest reclining image in Myanmar.

Pyay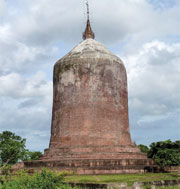 A seven hours drive, 258 kilometers north-west of Yangon. It is one of the most interesting early archaeology sites. It lies close to what was the seat of the Pyu kingdom called Sri Kestra from the 5th to 9th centuries. In the surrounding areas there are the ruins of this ancient capital. Sites of interest include the Shwesandaw Pagoda, and the ancient's ruins of Sri Kestra and Hmawza. Cross Ayeyarwaddy River bridge in Pyay, then take a boat ride 45 minutes to marvel at the statue of buddha carved along the ridge of Akauk Taung (Hill).
Kyaikhtiyo, The Golden Rock of Myanmar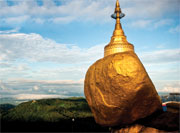 The site of one of Myanmar's holiest monuments, the Golden Rock Pagoda, which sits precariously on the edge of a cliff. And according to legend, the Golden Rock itself is precariously perched on a strand of the Buddh's hair. It is also the third most important Buddhist pilgrimage site in Myanmar after the Shwedagon Pagoda and the Mahamuni Pagoda. Only 80 km from Bago & 160 km from Yangon. It needs some more 11 km to be reached by hiking from the base camp or by driving up to a point about a mile aways to the pagoda.